Utopian Turtletop. Monsieur Croche's Bête Noire. Contact: turtletop [at] hotmail [dot] com
Friday, December 02, 2005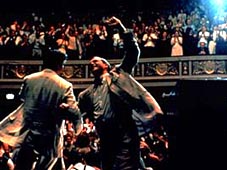 When I heard on the radio an arrangement of "Jingle Bells" set to the rhythm & sound effects track of "Tomorrow Never Knows," I didn't know there was
a whole album
devoted to mashing up Beatles tracks & Xmas classics. A whole album -- 2-CD set! -- may not work for me, but the "dashing through the snow" melody played on backwards guitar over that rhythm track was stellar.
* * *
That awesome moment near the end of the spectacular movie "Cradle Will Rock," when the actors have successfully performed Marc Blitzstein's eponymous musical under severe duress, and they're celebrating with the audience onstage: yeah, it can really feel like that, bringing an art project to completion.
Pleased to have met the deadline with my solo album.
Will endeavor to put it into electronic form and accessible cyberspace for your listening experience -- and hope you like it. A sloppy musical snapshot of my energies & notions, November 2005. Tentative title: "Songs and sketches, mostly nostalgic."
And hoping to finish my band's album soon too, but probably not till after the new year. Title: "You never know what you'll see."
* * *
My favorite Christmas record lately: The Singing Dogs, "Jingle Bells."
Runners-up:
Roland Kirk, "We Free Kings"
Beach Boys, "Auld Lang Syne" (the mix without narration)
Vince Guaraldi, "Christmas Time Is Here" (vocal version)
John Oswald, "White" (a distorted, gorgeous collage built on Bing's "White Christmas")
Beatles, "Auld Lang Syne" (included on the "Free as a bird" CD-single)